System Information
How does the mobile internet based router family work?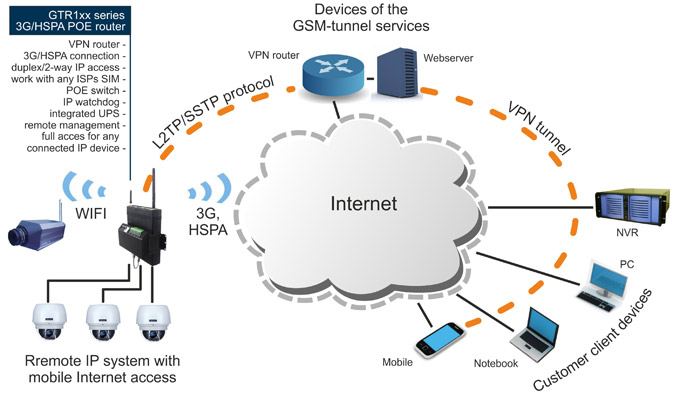 After being plugged in, the router immediately buids an encrypted VPN tunnel through the L2TP protocol to the administration servers of GSMTunnel.com. The internet connection of the device can be either a SIM card with mobile internet enabled, or a wired connection.

You can use any ISP's any pre-paid or post-paid SIM card. Most ISPs do not provide a public IP for devices using a mobile internet connection, and devices attached to commercial mobile internet routers cannot be reached remotely even when using third party dynamic DNS services.

Settings and remote management can be done on a web based password protected page. Wired or wirelessly connected devices automatically appear in the web interface in a few seconds, and can be managed from there.
The administrator, using this page can manage TCP and UDP ports from here, and the system automatically allocates public IPs and ports, making the devices available from any mobile device, browser or can be integrated to any remote administration system. IPV6 capable devices also receive IPV6 adresses.